General Manager – Commercial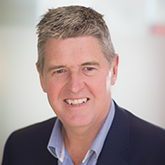 Steve's passion for the logistics industry drove him to excel through various leadership roles, and 30 years on, he was leading a team of more than 300 people as the Australian Manager of a $230 million air and ocean freight and logistics business.
Throughout his career, Steve has demonstrated a strong ability to build successful teams of dedicated people based on a culture of service excellence. Steve has a broad range of experience achieving operational efficiencies, developing organisational capability and increasing business value.
In his role on the senior management team, Steve is responsible for guiding the future direction of Danihers Facility Management, with a focus on ensuring service quality is delivered, and our systems and processes are best practice.
Since 2011, Steve has represented the logistics industry as a board member and director of the World Air Cargo Organisation (WACO).
Time outside of work is spent with his family and adult children as well as supporting his local footy and netball club, the Romsey Redbacks.