Facility Services Manager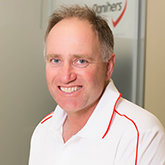 Damian joined Danihers in 2017 after 20 years of running his own construction, earthworks and building services business. Prior to that he was Head Curator at several secondary colleges. Passionate about customer service, Damian has strong expertise planning and managing major facility improvement projects, including redeveloping ovals and redesigning outdoor spaces.
He has a proven track record with landscaping, earthworks, construction, maintenance, horticulture, tank installation and other sustainability initiatives.
Damian is a keen cyclist and passionate Sydney Swans supporter. Having five brothers meant that a football, cricket bat or tennis racket were always on hand while growing up. He also loves to travel with his family any time he has the opportunity.