Human Resources Manager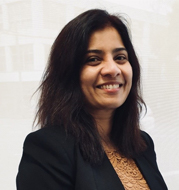 Nirosha is a talented HR Leader with over fifteen years of experience in operational and strategic HR. Nirosha manages, oversees and advises on HR practices, including attraction, recruitment and retention, employee engagement and development, performance improvement, workforce planning and workplace relations at Danihers.
She is also responsible for the planning and implementation of onboarding, induction, training and development programs for staff with a focus on maintaining safe, professional and high-quality service delivery.
Prior to Danihers, Nirosha held various HR roles at World Courier, Prudential Investment Company of Australia and Coles Myer.
She is exceptional at driving high performing team cultures through collaboration, engagement and strong stakeholder relationships.
In her spare time, Nirosha loves spending time with her two daughters. She is a passionate Hawks supporter and loves reading and going on long walks when she is not driving her daughters around Melbourne to their basketball games.