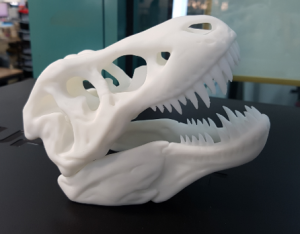 At Salesian College Sunbury, a 3D printer and Virtual Reality headset are being used to provide students with access to new learning experiences.
Technology Makerspaces are a great way to increase student engagement with new and emerging technologies, and so Salesian College put theirs into motion with the creation of the Tech and Gaming Club, which includes a range of digital tools and activities to help inspire young minds.
When 3D printers became available for 'home use' back in 2012, they opened a whole world of possibilities for object design and manufacturing. Also known as "additive manufacturing", 3D printers provide users with the ability to print any object or design directly from a computer program into a 3-dimensional model; some culinary institutes use them to print chocolate, while cardiovascular researchers have even been able to create living tissue.
With support from Danihers Facility Management, students at Salesian College Sunbury are now able to use this incredible technology to design models in VR and print them using a 3D printer. Some students have even brought in designs that they created at home, while others are content to investigate the functions of the human body and explore different countries in a virtual world, or simply observe 3D prints in progress.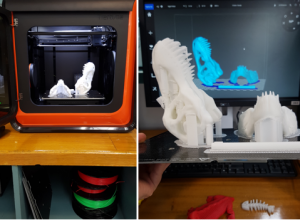 While Virtual Reality has only been accessible for schools within the past three years due to vast improvements in the size of head mounted display units (HMD), today's HMDs are lightweight and relatively inexpensive, and some can even be made from cardboard. As a result, VR is growing in popularity as a learning tool. New worlds can be explored from the safety of the classroom, and theoretical systems can be examined in ways that have never been possible previously.
"The academic benefits for our students have been immeasurable, and the new Technology Makerspace at our College has helped to increase the overall engagement within the library," expressed Acting Principal Angela Romano.
"It has provided students with the tools to form new bonds with each other as they share design ideas and troubleshoot issues with the equipment. Some of the more tech savvy students have also taken on leadership roles and assist others with the use and maintenance of their new technology."
The library staff at Salesian College have also made strides to break down gender barriers that have typically applied to STEM activities by establishing "Girls Only" days twice per week.
Staff were able to engage girls with 3D printing by running sessions on how to create 3D printed jewellery. This effort to engage female students with the new technologies has been incredibly successful, and the Girls Only VR days are now booked out for weeks in advance.
Congratulations to Salesian College Sunbury on the success of their club and makerspace! Danihers Facility Management was honoured to have provided support to such an innovative and inclusive project.
Danihers would also like to wish the College a happy 90th birthday!