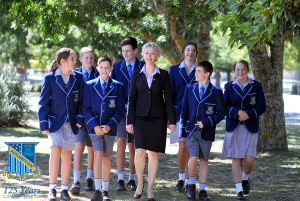 This year marks a huge milestone for Assumption College in Kilmore celebrating 125 years in education.
Founded in 1893 the school was established by the Marist Brothers in Kilmore originally as a primary school for boys and evolving into the full co-education student body it is today. Always promoting an atmosphere for their students to pursue their studies with purpose and confidence to reach their full potential aligning with the schools motto "Quae Supra Quaere – Seek the things that are above".
As a start to the celebratory events the school put on a mass at St Patrick's Cathedral held by the Archbishop of Melbourne, Archbishop Denis Hart.
"The Mass itself was a beautiful celebration, and the organisation by our staff (buses, food, student wellbeing) was professional and warm. We have had dozens of congratulatory messages passed on from Old Collegians, special guests, cathedral staff and members of the general public acclaiming us for how the College conducted the event, and the way the students presented and engaged." Principal Kate Fogarty said.
With the pinnacle of the years celebrations being a Gala dinner at the Palladium at the Crown in October for past students and friends and family of the college to celebrate their history and achievements and sharing in their successes in the community.
Danihers has been proud to be a part of the Assumption College community since 2015 and looks forward to contributing to another 125 years of success for the school.
Happy 125 years Assumption College!