Danihers were engaged by Brian Turner, Principal at Catherine McAuley Coolock Campus to rejuvenate their Trades Training Centre open learning space.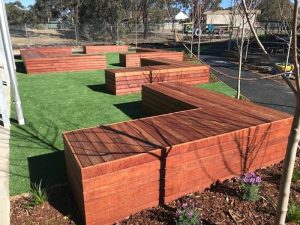 We completed everything from concept design using Sketch up pro with a 3D layout and 2D design autocad layout to scale and contractor working drawings.
Danihers started on this project by demolishing the existing garden beds, then we re-connected the storm-water to guarantee a sealed system for the down pipes which ensures there is no overflow during the wet season.
Strip drain was installed to assist in water disbursement. Aggregate drain was fitted under the synthetic turf for water dispersion into large concrete sump pit. This will ensure all surface water onsite will drain accordingly.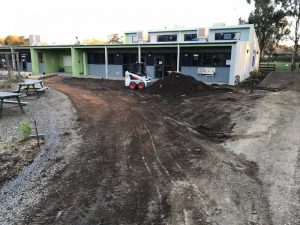 Hard and soft scapes:
Timber bench seating (Completed by Broadway Builders)
Synthetic Turf (Completed by Best on Ground Landscaping)
Danihers team dug in the 16 deciduous trees (Scott Eeles, Daniel Barber)
Danihers team completed the earthworks and base prep for turf areas, bitumen paths and garden beds (Luke Etheredge, Scott Eeles and Daniel Barber)
Bitumen by Hall Asphalting
Planted and mulched by Danihers
Danihers would love to extend a big thank you to Brian Turner (Principal) for giving us the opportunity to design, build and manage this wonderful space.