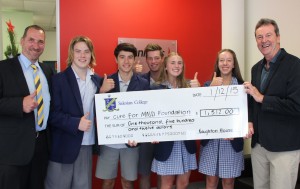 Well done to students from Salesian College Rupertswood who visited us in December to hand over a $1,512 cheque to Neale and the Cure for MND Foundation.
Nic Burt and Paul McCann from the Facilities Management Association of Australia and Building Service Contractors Association of Australia Vic Division were also on hand to present a cheque for $7,275.
A group of generous and proactive Salesian College students organised an ice bath challenge in September and sold beanies to achieve their donation.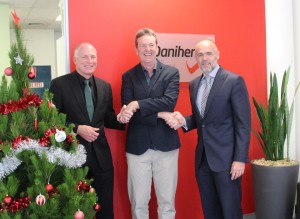 The students had a great chat with Neale and took the opportunity to further understand the cure for MND cause. Neale also asked the students to nominate the next celebrities who will undertake the ice-bucket challenge next year at the MCG!
After an amazing experience on the Danihers Drive and wonderful support at the inaugural Cure for MND Gala Ball, Neale and the Cure for MND team can now announce that they have raised an incredible $4.5 million for the fight against Motor Neurone Disease (MND)!
This follows on from fantastic contributions from North Keilor Catholic Regional College and Mentone Grammar mentioned in earlier newsletters.
To learn more about how these funds are already being used, check out the details below.
Anthony
Photo far top: Thumbs up from Salesian College's Naughton House Leader Vic Gati and Year 11 students Liam Thomas-Lee Tet, Billy Cannolo, Nathan Shoesmith, Madelaine Feain, Olivia Flynn with Neale.
Photo above: Neale with Nic Burt from FMA and Paul McCann from BSCAA Vic.