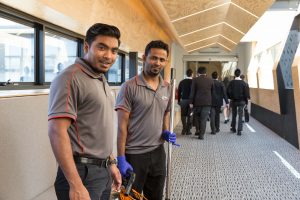 We've received more great feedback and are keen to share it here to celebrate the good work from our team!
---
"Just a quick note to mention the positive feedback being received regarding the cleaning team. I received nothing but positive feedback from the entire business including the executive.
It is an absolute pleasure working around a professional and courteous team. Keep up the great work."
Nicholas Zanchetta
Facilities Services Manager
Ausenco, South Brisbane Qld
"Warren's excellent work has not gone unnoticed during the recent exam period. He has made the operational aspects of exams so much easier for Rowan and myself. In the time I have been at Alphington Grammar School we have never had this level of support and it enables us (the teaching staff) to direct our efforts into what we should be doing…teaching effective lessons. Thank you, Warren."
Lukas Silver
Director of Teaching and Learning
Alphington Grammar School
"Matt's team presented and spoke well. Their quality of workmanship was fantastic.
When our next requirement for window cleaning comes up we will be happy to continue with the service they provide."
Jason Munckhof
Mannix College
Monash University
"The canteen ladies have given me positive feedback on the toilets in the heritage building cleaned by Cameron."
Des Langdon
Facilities Manager
Assumption College Kilmore
Thank you to Nicholas, Lukas, Jason, Des and all of our other clients who take the time to pass on their feedback.