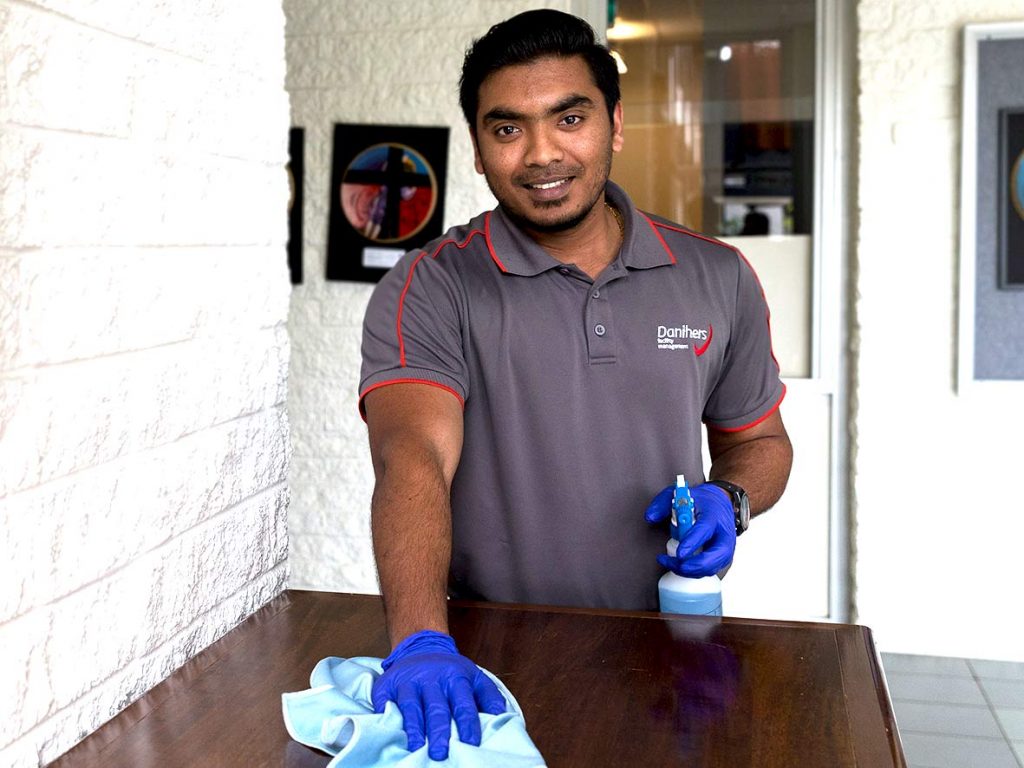 At Danihers Facility Management, we are committed to delivering a healthy and safe working and learning environment. In keeping with this, we are taking a proactive approach to Coronavirus COVID–19.
At this time, we have identified 3 key priorities:
Keeping Danihers employees, business partners and their teams safe and calm.
Continuing to serve Danihers customers with the highest standards.
Doing our part to slow the spread of the virus in our communities, protecting those most vulnerable within them.
We are confident that if we diligently follow good hygiene practices and avoid gatherings and non-essential travel, then there is a very low risk of us catching COVID-19. If we all work together, we can make a massive difference!
We have put several proactive measures in place to ensure our team members can manage all their risks. This will enable us to continue to serve our customers effectively and allow us to do our part in slowing the spread of the virus.
Danihers Head Office Update
Most of our head office team are working from home where possible. A skeleton crew of one person per department remains at the North Melbourne head office. We have encouraged staff to avoid public transport and reduced the number of visitors to the office. Meetings with external parties are mainly conducted via Skype and we are all slowly getting the hang of it!
CSM Site Visits
Our Client Service Managers are out on the road visiting many sites and meeting with different people every day. We are now encouraging them to limit their time on site and in our office unless necessary. We have also asked all our Business Partner owners to limit their site visits during this time. Meetings are now being conducted over Skype or phone and it's working quite well.
Social Distancing for Staff
We have already encouraged our team to avoid shaking hands and remain at a safe 1.5m distance where practical. We have encouraged site managers to limit face to face meetings where possible, choosing to conduct them via phone or Skype instead.
International Travel Policy and Sick Leave Policy
Following the Australian Government's announcement earlier this week, we will ensure to comply with the upgraded travel requirements and Level 4 international travel ban. Accordingly, all Danihers staff and Business Partner team members returning from overseas have been advised that they must not return to work for 14 days upon their arrival in Australia. All further international travel must also be notified to HR Manager Nirosha Dissanayake or their relevant Client Services Manager before departure.
If a team member is unwell, regardless of the diagnosis, they must provide a medical certificate stating their fitness for work before their return.
Strong Safety Procedures in Place
Danihers has a range of procedures in place to ensure the safety of all our team members during this pandemic. We are proud to say that with 26 years' experience providing Grade A pharmaceutical cleaning we have a full understanding of the requirements that need to be met to keep our cleaners safe while undertaking cleaning.
Good Hygiene is Crucial
We are regularly encouraging all Danihers team members to be vigilant about the following things:
Hand washing and hygiene – washing hands frequently throughout the day for 20 seconds at a time, using soap.
Wearing gloves when performing cleaning tasks.
Wearing a facemask and eye protection during disinfection activities.
Avoiding touching their face especially eyes, nose and mouth.
Covering coughs and sneezes with a tissue or shirt sleeve, not their hands.
We will continue to closely follow the recommendations and advice of the World Health Organisation and local health authorities and will update you as any changes relevant to our operations comes to hand.