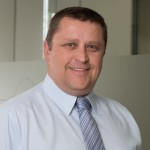 Get to know our friendly team through our regular employee profiles.
This month we will shine our spotlight on Richard Kirkland, one of our Client Service Training and Development Managers.
Richard's background in full facility management, overseeing both cleaning teams and facility services, has given him a strong understanding of our clients' needs.
Tell us about yourself in 30 words
Born in UK, CFA volunteer firefighter, love Formula One and MOTO GP. I've started the jet engines of a British Airways Concorde before it flew from London to New York.
What is your role at Danihers?
Client Service Training and Development Manager, working from the North to the West of Melbourne.
Describe a typical day in your role
Morning Quality Assurance visit at one of my school accounts prior to students arriving. Quality Assurance inspections at commercial clients. Mobile office work by remote access then in to head office in North Melbourne to catch up on paper work, quotations and filing.
Where have you worked before?
Westfield Shopping Centre Doncaster, Pacific Shopping Centres Werribee Plaza, University of Reading Halls of Residence Division – UK.
What makes you smile at work?
Receiving great feedback from my clients on a job well done and to see the happy faces of the cleaning teams throughout my portfolio.
Where is your favourite holiday destination?
The UK – I love to return home to the UK to see my family and friends, but I don't like to visit in winter as its too cold for me now that I'm acclimatised to the great Australian weather.
Tell us about your most rewarding experience since you joined Danihers. 
While carrying out an early morning site visit at a primary school in north-west Melbourne, I noticed one of the young students walking around with a staff member. He appeared quite shy but at the same time he was quite intrigued as to who I was and what I was doing. The young boy asked me what I was doing, I took the time to talk with him and the staff member and explained what it was that I had to check around the school. I noticed he had a hand drawn special agent badge so I said he could help me by keeping an eye on the school when I wasn't there. He told me his name was Ben and I became aware from my discussion that he had autism. The most rewarding experience was the following month while carrying out my monthly inspection, Little Special Agent Ben remembered me and to be honest I had a lump in my throat when he told me that the school was ok and that he had been looking after it.
What is your favourite time of year and why?
Christmas in summer – after suffering so many freezing British winters it is totally awesome for my family to enjoy Christmas in the sun, complete with a dip in our pool!
What do you wish other people knew about Danihers? 
How great the team are and how Danihers have selected experienced staff from different industry sectors bringing great strength to the business. That Danihers can provide a total Facility Management Experience to our clients.