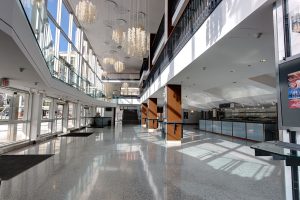 Since 2013 the Facilities Management Industry Census has provided valuable insights into this industry. The purpose of the Census is to provide a snapshot of the industry and insights into meaningful trends, with each year adding more data and a greater understanding of facilities management norms and changes.
Gender diversity continues to improve among facilities management professionals with 29% of participating Practitioners identifying as female, up from 19% when the Census began in 2013. This result outlines the decrease in the gender gap, let's hope these numbers keep increasing in 2019!
53.7% of Practitioners consider a Diploma as 'relevant' where it is their highest level of education, with 85.2% of those participating considering it at least 'partially relevant'.
This industry seems to value Networking events as it continues to be the most popular method for participating Suppliers to promote their brand and goods or services.
Improving and maintaining health and safety' is once again the top strength and lowest weakness overall, and across all types of participants in the Census. When reading the Census, this was an impressive and valuable statistic for FM industry.
The top overall opportunity for the industry remains 'advances
in technology', while the issues of 'energy prices' and 'cuts to government services' were considered a threat by the highest proportion of participants. Technology seems to be an area which needs more attention in FM, an opportunity to evolve and innovate is the key.
In Summary Key Trends of 2017/18 Facility Management Industry are:
29% of FM practitioners identify as female, up from 19% in 2013
73% of practitioners are under the age of 50, compared to 52% in 2013
The key benefits of outsourcing FM are "greater flexibility", "access to best practice" and "reduced costs"
Maintenance and cleaning are the most sub-contracted services
The biggest opportunity for the industry is advances in technology.
Sources: https://www.fma.com.au/fm-industry-census