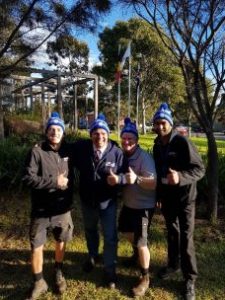 Five years ago, Neale was diagnosed with a cruel disease that takes everything from you. There is no effective treatment and there is no cure, but my brother keeps fighting. I am so proud of his achievements with Fight MND and their latest fund-raising efforts.
Danihers are proud supporters of Fight MND, pictured on the left is our team with the Deputy Principal John Coshan from CRC North Keilor wearing MND beanies. Well done to all!
On June 11, all 18 AFL coaches joined in the fight against MND. They have taken a plunge down the icy slide and showed their support, as always.
The 2018 Queen's Birthday Big Freeze demonstrated the strength of the Australian public and the strength of the AFL community.
To have all 18 AFL coaches commit their time and agree to slide into a pool of icy water to help raise awareness and funds for MND just highlights their commitment in supporting this great cause.
Fight MND raised close to $6.5 million this year to fund the most promising MND research, what an excellent effort!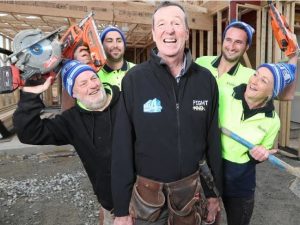 The latest in the fight against MND is a great initiative of a family home being built and auctioned to aid Neale Daniher's inspirational campaign to fight motor neurone disease.
Henley Homes will donate the proceeds from the sale of the double-storey home, under construction on land donated by Brown Property Group.
The home, in BPG's Meridian estate in Clyde North in Melbourne's southeast, will be sold at a no-reserve auction next March. More to come on this, stay tuned!
Every dollar makes a difference and we still need everyone's support to beat this beast. We hope you all continue to help us fight until we find a cure.
If you haven't already, please donate at www.fightmnd.org.au.
 Anthony
Sources: