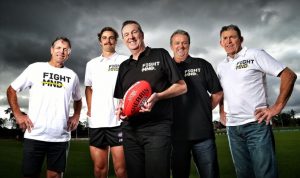 FightMND has been passionately and purposefully fighting the fight against Motor Neurone Disease (MND) for the past four years, since inception in 2014.
There is no cure for MND – (at this stage) – but it is not incurable, it is under-resourced and continues to require significant fundraising to provide Australia's best and brightest researchers with the resources they need to conduct cutting-edge research to find an effective treatment and cure.
Two Australians are diagnosed with MND every day – with the knowledge that the average life expectancy is just 27 months – and another two lose the fight against MND every day.
2018 was a watershed year for FightMND, with the two major public awareness and fundraising events, Big Freeze at the 'G and Daniher's Drive breaking all previous fundraising records.
Big Freeze 4 was the most successful so far by any measure. The iconic event raised an incredible $6.5m, assisted by a $2m matched dollar for dollar contribution by the Australian Government, and sold 120,000 famous blue beanies. The AFL coaching fraternity showcased its support to FightMND's illustrious leader. Neale Daniher was supported by 18 AFL coaches who took the plunge down the Big Freeze slide – watched by nearly 90,000 fans at the MCG and 650,000 people on TV nationally.
Daniher's Drive, the FightMND event inspired by community spirit and fundraising, raised an extraordinary figure of $2.5m in 2018 and this is essentially attributable to the amazing generosity of the Australian community, including the rural regions.
Currently FightMND has contributed the generous funds from everyday Australians to the following critical projects, illustrating how FightMND invests the monies it raises, always with a sense of urgency and immediacy.
$23.4 m to cure and care initiatives
$20.9m to cure initiatives
$2.5m to care initiatives to people living with MND
$6.9m to seven drug development grants
$6.7m to four clinical trials
$2.5m to care initiatives to people living with MND
Danihers Facility Management supports FightMND in their crucial fight to find a cure. We are thrilled to see the accomplishments of Neale Daniher and FightMND so far and we hope to assist them further in their battle in 2019.
If you run out of ideas of what to give for Christmas to someone who has everything, Donate in their behalf and join the fight.
Source: All facts and figures in the above article were supplied by FightMND.