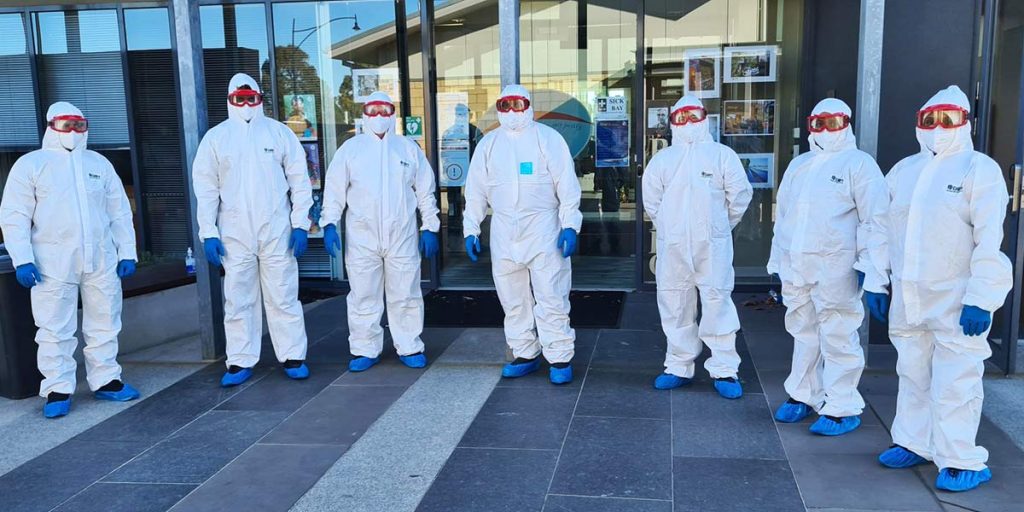 At Danihers, we have been busy providing additional cleaning services throughout the pandemic, to ensure everyone feels safe working and learning during their time on site. With 26 years of experience in pharmaceutical A-grade cleaning, we are well equipped with the knowledge and skills to get the job done right each time.
Since the first lockdown, there has been an increased frequency of indoor and outdoor touchpoint cleaning across our sites. There has also been an increase in requests for Stage 3 cleans – or contamination cleans.
We are often asked 'what is involved in a contamination clean'?
The answer is . . . a lot! Let's take a look behind the scenes at the different stages of contamination cleaning. . .
Step 1
If a site is directly impacted by a confirmed case of COVID-19, the site will work with the Department of Health and Human Services to undertake a process of cleaning and disinfection. A contamination clean needs to be completed as soon as possible, so staff and students can return to site with minimal interruption.
Client Service Manager and Site Supervisor meet with key contacts at the site to go through key areas that require contamination cleaning. Any areas frequented by staff or students are targeted, such as offices, classrooms, gymnasiums, bathrooms and eating areas.
Step 2
A dedicated area is set up for all PPE and cleaning equipment and a plan is made around which areas and tasks each team will complete. Each site is different, so the teams are brought up to speed on what will be required by them on the day.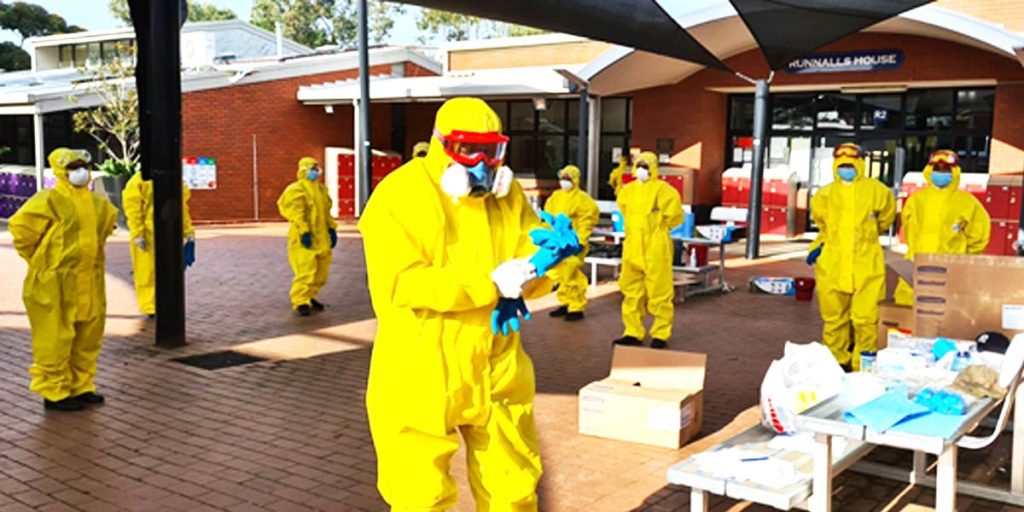 Step 3
It's time for the team to put on their PPE! Then the teams collect any equipment required to complete their tasks and head off to their areas.
Step 4
All areas potentially contaminated are cleaned from top to bottom. In each room, the teams start with the ceiling and work their way down. Everything must be wiped clean – especially touchpoints like desks, chairs, door handles and so on.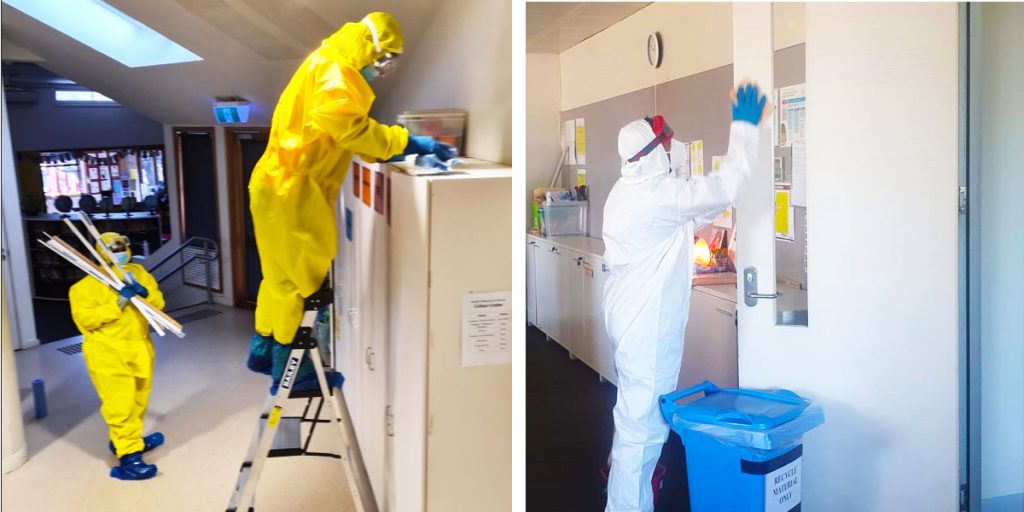 When cleaning, we choose to use a hospital-grade disinfectant called CounterFlu. The active ingredients in CounterFlu are specialised quaternary ammonium compounds that kill germs, bacteria, fungi, moulds, the common flu virus and coronaviruses – including SARS-CoV-2 COVID-19 virus. This makes it the perfect choice for contamination cleaning.
Every few hours the teams take a break. It is hot work in full PPE and the gloves and facemasks need to be changed regularly.
Step 5
When the teams are finished, they head back to the station and remove their PPE. This step is critical! PPE must be removed and disposed of correctly to stop any surface bacteria spreading. Managers then complete a full walkthrough of the site to ensure all areas have been completed and all waste is removed.
If you would like any more information on contamination cleans, please contact our Operations team, or your Client Service Manager.