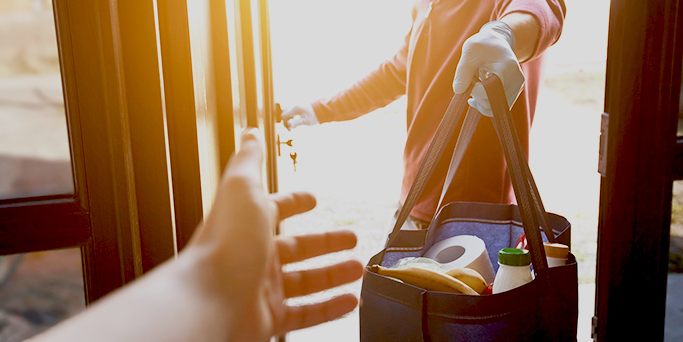 The outbreak of COVID-19 has impacted people and our communities in many ways. It is understandable that during times like this, we can be left feeling vulnerable, overwhelmed and anxious about what the future may hold.
Please know that you are not alone and there is support out there for you! It's important to stay informed, prioritise our mental health and wellbeing and look out for each other during these difficult times.
At Danihers, we understand that there are people out there that are doing it tough. So, we decided to put together a list of services available Australia-wide, as well as in Melbourne and Brisbane, that will hopefully make people's lives a bit easier.
Support for the Daily Challenges
For many people, covering household costs and putting healthy food on the table has become a daily struggle. It can be hard to source enough fruit, veggies and pantry staples to meet our nutritional needs on a budget.
Fortunately, community agencies provide affordable meals, food vouchers and grocery hampers to those that need it. There are also community gardens and markets around Melbourne and Brisbane where you can access affordable, fresh and healthy food.

The City of Melbourne Community Food Guide is a great overview of food banks, community meals, community gardens and markets scattered around Melbourne.
The City of Brisbane Essential Contacts Guide is a guide that provides contact details for community organisations and service providers that aid people requiring support across Brisbane.
Foodbank offer food relief through charity partners including Salvation Army and Vinnies. Learn more about their charity partners online.
The Salvation Army can provide practical and emotional support during these tough times.
The Australian Red Cross provide relief packages and share helpful resources to help manage isolation.
Vinnies soup vans can offer food hampers for individuals and families, and food parcels for those with little or no cooking facilities – call the Vinnies Welfare Assistance Line on 1800 305 330.
AskIzzy is a free and anonymous website where you can search over 360,000 services to find housing, meals, healthcare, counselling, legal advice, and a whole lot more.
Support for International Students
There is support available for international students who have found themselves stranded in Australia during this difficult time.
The Study Melbourne Student Centre offers a range of student services and support that can be accessed online or over the phone, complete the support request form or send an email.
The Study Queensland Student Hub offers a range of student services and support that can be accessed online or over the phone.
The Australian Government offers support to international students seeking information, support or care.
The Melbourne City Institute of Education is offering free meals for their students, you can check out their information online.
The Victorian government has announced an emergency relief fund for international students in Victoria. Eligible international students will receive a relief payment of up to $1,100 and may also be eligible for the Victorian Government's rent relief program. For more information head to www.studymelbourne.vic.gov.au .
Also, the Red Cross is receiving funding from the Australian Government to deliver emergency relief and support for people who are on temporary visas. Eligible people can email them here.

Early Access to Super
The government is allowing early limited access to your superannuation. Australian citizens and visa holders who meet the eligibility criteria can take out up to $10,000 from your super, tax-free. Applications are through MyGov.
You can also save money by looking at your own expenses to see where you can make changes.
Who can I talk to?
Many of us have faced some tough challenges during COVID-19. The world around us changed very quickly, and these changes have had a big impact on our lives and has left many of us feeling isolated or disconnected from family.
If you are experiencing any emotional or mental distress and need someone to talk to, please reach out to one of the services listed below.
ReachOut has online youth forums and online parent forums for COVID-19 offering peer support in safe and established online communities.
Beyond Blue have a dedicated COVID-19 online forum for people to share their concerns and connect online to support one another.
SANE has an active online forum focused on unpacking fact from fiction about COVID-19 and providing self-care strategies.
We are all in this together. Please make sure to stay connected with family and friends and look out for people in your community as we all live through this temporary situation.