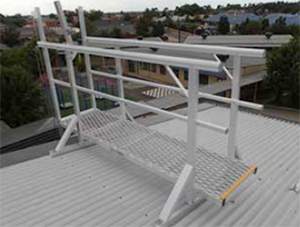 It's easy to consider your roof 'out of sight, out of mind', however, the risk of leaks, damage to capital and equipment, and injury to visiting contractors is very real.
A comprehensive roof and height safety program can extend the life of your roof and ensure all staff and contractors are following safe practices at your site.
There are many factors that can wear out your roof:
Exposure to the elements (sun, water and storms) or shorter-term exposure to damaging air pollutants and chemicals
Structural movement, such as building settlement, plus expansion and/or contraction
Changes in the use of the building, including increases in the internal air or humidity
Biological growth
Irregular maintenance.
In addition to protecting the initial investment you made in your roof, you have a duty to provide a safe environment for contractors and this includes controlling the risk of falls.
Various codes and legislation today require a wide range of roof safety features, including;
anchorage systems
static line systems
ladder access brackets
permanently fixed ladders
roof hatches
personal protection equipment
walkways
handrails.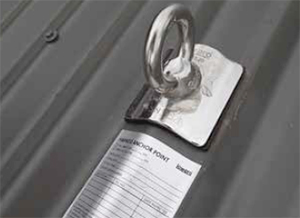 Anchor points are an important roof safety element
During a Height Safety Audit a qualified roofing contractor will conduct a maintenance and risk assessment of every roof at your site. The audit includes a report on the condition of your roof and recommendations for any structural or safety improvements.
A Height Safety Audit can help you identify the following safety requirements:
What are the hazards on each roof?
What controls are currently in place to prevent or restrain a fall?
Any other measures that can minimise or control the risk of a fall
The effectiveness of these controls.
It is essential to consider fall arrest in all recommendations. Individuals working at height must be protected from fall injury, and fall arrest is one of several forms of fall protection.
Once the audit is complete, it is important to establish a roof register which includes a detailed risk assessment for each roof and a roof maintenance program, which outlines a plan for annual inspections by a qualified roofing expert.
Is it time to review the condition and safety of your roof?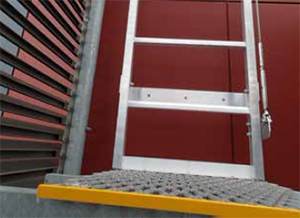 Roof ladder with a secure bottom landing and fall arrest cable
FAQs
What is a fall arrest system?
Fall arrest is the form of fall protection which involves the safe stopping of a person already falling.
An easy way to remember the components of a fall arrest system is to use the 'ABCDE' method.
A – Anchor Point
This is defined as the fall arrest rated point to which a worker can be tethered to carry out work safely.
B – Body Harness
This is defined as an Australian Standards approved, full body harness (belts and lower torso harnesses are excluded from the standard for most industrial applications). Choosing the right harness for the type of work to be carried out, frequency of use, comfort levels, etc is critical to maintain user acceptance and compliance.
C – Connector
A term used for a collective volume of hardware including hooks, karabiners and adjusters used between the harness and the anchor point.
D – Decelerator
By law, every fall protection system must have an energy absorption component to minimise the impact of the force created during a fall on the body to less than 6kN (600kg).
E – Emergency Rescue Procedure
The emergency rescue plan is an essential part of any site work plan. If a fallen worker is suspended for an extended period of time, they may be subjected to the dangerous and uncomfortable effects of suspension trauma.
What is the scheduled inspection period for harnesses, lanyards, inertia reels, static line systems & anchor points?
Harnesses and lanyards should be inspected every six months. Inertia reels, static line systems and anchor points should be inspected every 12 months in accordance with AS/NZS 1891.4 or as per the manufacturers requirements. For equipment used in harsh environments, a more frequent inspection policy is recommended.
How long can a harness be in service before it must be replaced?
Ten years from date of manufacture, providing that all harness components remain in a serviceable condition.