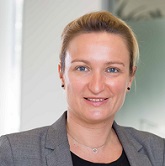 We are pleased to announce the return of Kate Henselis to the Danihers Facility Management team.
Once a member of our team 11 years ago, Kate Henselis returns to the Danihers family as our new Compliance and HR Manager.
Kate is responsible for ensuring compliance with all our processes and company standards, enabling us to continue delivering high quality services to our clients.
With more than 13 years of experience in facility management, Kate has a thorough understanding of the industry, including skill development and compliance requirements.
She has a strong background in client relationship management and human resources, and is committed to customer service excellence and mentoring teams. Kate also has a strong focus on engaging team members and building resilient and thriving organisational cultures.
Outside work, Kate enjoys getting away with her husband and two children in the family's 4WD and camper. She loves the great outdoors, the beach, keeping fit, eating well and being involved in her kids' sporting activities.
We wish Kate a warm welcome back!