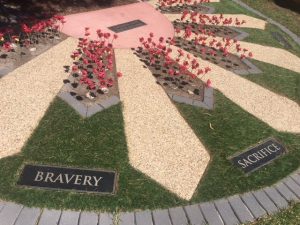 Students from St Francis Xavier College Berwick Campus have paid tribute to our veterans by building a war memorial at their school with the help of Danihers Facility Management.
The project originated with Year 9 history students who wanted to build a war memorial on the school grounds so they could pay their respects on Anzac Day and Remembrance Day.
This developed into a competition where students were asked to design a memorial and reflective space. The final design was a combination of several student entries comprising the 'rising sun' of the Australian army, rows of poppy plants and semi-circular seating.
Deputy Principal, Head of Berwick Campus, Jason Hibberd said the project had really brought the school community together.
"I'm really impressed with how the Year 9 students embraced the project," he said.
"They came together to create a place where students can always remember the sacrifice of our service personnel."
With seating for 30 students, the space can also be used as a peaceful outdoor classroom.
The new memorial was used for the first time on Remembrance Day in November 2017 when it was officially opened by a groups of students and members of the local RSL.
Students are currently planning a service for Anzac Day 2018.
Well done Jason and the students at SFX Berwick! It's great to see students embracing our Australian history and making sure we never forget the sacrifice made by our veterans.