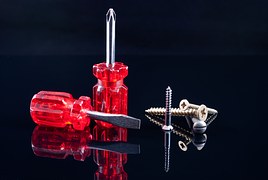 We all know the old saying 'a stitch in time saves nine' and although it's a cliché, it's true. Regular maintenance around your site can eliminate the need for minor or major repairs in the future.
A good maintenance program is built on a foundation of preventive maintenance.
Preventive maintenance is the scheduled maintenance of equipment and predictive maintenance forecasts the failure of equipment based on age, user demand, and performance measures. Through a carefully planned preventive and predictive maintenance program you can ensure that your property is well maintained, as well as saving time and money.
When you stay on top of upkeep, small issues never become big problems and your building will look better for longer.
The following tips will help you keep your site in top shape:
Clear planning
Every piece of equipment or machinery should have a schedule of what type of maintenance it requires and when it requires that check-up. Plan and schedule these things on a regular basis so you know that these will be looked after.
Update your inventory
Develop an asset list including every piece of equipment under your care, and then include notes about each of them, such as how old is the item and what is the current condition.
Use checklists or automate your maintenance
Having a checklist, either online or hard copy, helps you make sure that no steps are missed and ensures your equipment remains in great working condition.
Keep records
It is important to hold onto checklists, documented work orders and maintenance reports for quality control and compliance. Thorough documentation can help you get to the source of a problem in the case of equipment breakdown, a work-related injury or non-compliance.
Conduct regular inspections
While your annual inspections are essential; regular visual inspections
of buildings, grounds and equipment are also helpful. Check thoroughly and spend the time to catch small problems before they become large.
Make use of down time
Business is slower and your building is emptier in the holidays – use this time to arrange necessary maintenance.
If you wish to go beyond calendar-based maintenance, consider real time maintenance for assets that can stream data. With real time maintenance, the equipment can stream data about its condition directly into a management system and a work order can be automatically generated when data shows that a problem is beginning to develop.
This approach can provide 24/7 monitoring of your assets, resulting in fewer large-scale repairs, reduced emergency maintenance, improved life of your equipment, and less downtime.
Danihers can prepare a tailored preventive maintenance plan to suit the needs of your facility – contact our customer service team on 1300 559 409 for more information!
Source:
www.buildings.com
You may also like:
Essential services – essential knowledge