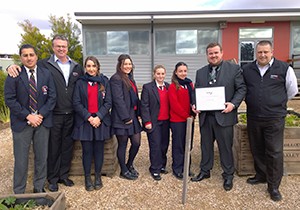 Kolbe Catholic College students are taking action on sustainability and food education, getting their hands dirty by creating a community garden at their school.
Consisting of two stages – a temporary start-up area which was established in 2014, and a permanent site – the school anticipates that the Kolbe Community Garden will become a thriving hub for healthy activities and learning opportunities.
So far, the temporary garden has ten recycled fruit boxes planted out with a variety of herbs and vegetables, such as snow peas, potatoes, carrots, lettuce, zucchini, cucumbers, parsley, mint and thyme.
Eight half wine barrels have been planted out with mature fruit trees, including apple, plum, pear, peach, orange, lemon and passionfruit.
Future plans for the area include an outdoor classroom made from an old shipping container, a chicken pen, crushed rock paths and a fence.
Construction of Stage 2 – the permanent garden – will start in 2016 to coincide with other building works at the school.
It is hoped that the garden will eventually provide a mixture of individual garden plots used by a range of groups, including local students, aged care facilities, kindergartens and primary schools.
The permanent garden will be a model for good environmental practice by demonstrating ways to save water, reduce waste and promote biodiversity. Anticipated learning experiences will extend into the areas of horticulture, design, construction and food processing.
The Kolbe LEAD Program students have been heavily involved in planning and developing the garden project, ensuring it meets sustainable building principles. The garden has also been a great resource for VCAL students as they enhance their literacy, numeracy and work related skills, including building structures and laying out garden plots.
Also participating in the project are a number of students with special needs, who work in the garden alongside their integration aides, learning about planting, harvesting and selling their home grown wares.
The school's Food Technology classes also benefit from the garden, as they now choose fresh ingredients from the garden to use in their recipes.
Studies suggest that community gardens can provide a variety of social and nutritional benefits to neighbourhoods by encouraging people to get involved with building, planting, and growing – thereby giving them a greater understanding of the nutrients we put into our bodies. A recent study conducted by the University of Utah has even reported that people who participate in community gardening have a significantly lower BMI (body mass index) – as well as lower odds of being overweight or obese – than their non-gardening neighbours.
Teachers at Kolbe Catholic College have already found that the garden is giving students a sense of achievement as it continues to grow. Students have been able to harvest the produce and raise funds for charity or donate the produce to those in need. The garden provides an opportunity for students to connect with the earth and become more grounded and calm. Students are also learning other hands-on skills by helping out with other landscaping works within the school grounds.
At Danihers, we are proud to support this amazing sustainable initiative. It's a privilege to watch the Kolbe students achieve their vision as the garden develops into a wonderful place where students and local green thumbs can grow food, learn new skills and keep healthy.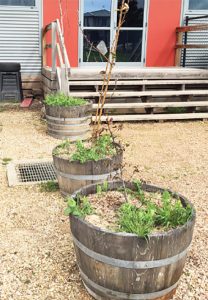 Fruit trees planted during Stage 1 are starting to grow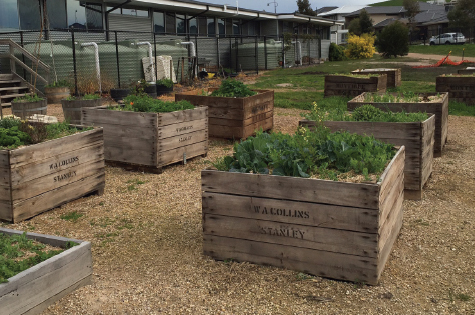 Recycled fruit boxes serve as planter boxes for herbs and vegetables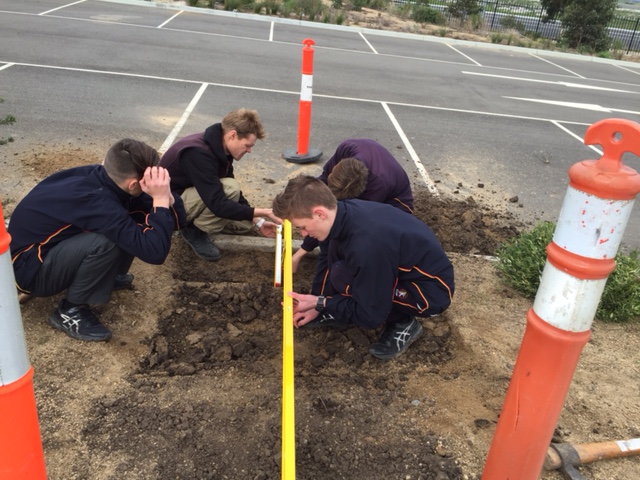 Hands on learning: students help with other landscaping projects around the school grounds