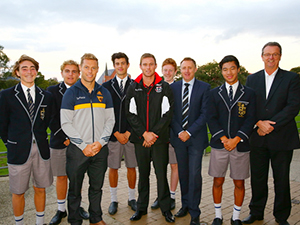 Our wonderful client Mentone Grammar recently raised $1600 for the Cure for MND Foundation at their annual sports breakfast.
The Mentone Grammar Footy Breakfast is a great way to kick off the new AFL season and hear from popular players including Hawthorn champion and All-Australian Sam Mitchell.
Hosted by St Kilda Football Club CEO and Old Mentonian Matt Finnis, 90 guests also enjoyed an address from St Kilda midfielder David Armitage followed by an auction to raise funds for the Cure for MND Foundation.
Many of you will know that my brother Neale was diagnosed with Motor Neurone Disease in 2013 and is now working tirelessly to raise awareness and funds for research into a cure for this disease.
The Cure for MND foundation is a 100% not-for-profit foundation established in 2014 to raise the profile of Motor Neurone Disease within Australia and abroad. The foundation hopes that increased awareness will lead to not only better care for those affected by the disease, but also increased funding for vital research into finding a cure.
Thanks once again to Mentone Grammar for helping support the Foundation's vital work.
Anthony