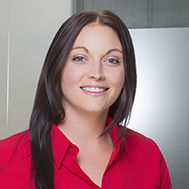 We would like to introduce our new Client Service Training and Development Manager, Tessa Johnson.
With a wealth of experience in the facilities management field, Tessa has spent several years managing the property services requirements of organisations such as Ausenco and Rio Tinto in Brisbane's CBD, together with all Australia Post/UGL properties in the Brisbane's CBD and South East suburbs.
Her roles included management of all building trades' contractors, service technicians, office products and infrastructure suppliers; plus the management of building projects and daily liaison with building management.
Tessa also gained invaluable facilities management expertise during her tenures with Jones Lang LaSalle and Integra Asset Management where, at each of these organisations, she was responsible for managing the performance of all building services contractors and monitoring their safety and quality standards.
Born and bred in country NSW, Tessa relocated to Brisbane some 10 years ago and can't see herself living anywhere else. Away from work Tessa is kept busy with her husband and their 4 year old son, and pursuing her long-term love of playing netball.
Welcome aboard, Tessa!