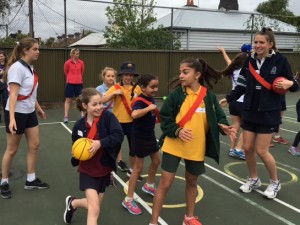 PCW Melbourne has extended learning beyond their four walls into the local community through their collaborative new Bright Sparks program, supported by Danihers Facility Management.
The Bright Sparks program has seen fifty Year 9 PCW students present a range of classes and activities to local Grade 4, 5 and 6 primary students each term.
Run over four weeks each term, the program covers history and culture, STEM (science, technology, engineering and mathematics) and a mini inter-school Olympics.
The team of students work collaboratively to analyse and report on a specific problem, such as 'Can eating insects save the planet and solve world hunger?'
In the most recent session, there was a lot of fun and laughter while the Year 9 students taught the Year 5 girls to play Tchoukball, an international team sport using a round ball and trampoline-style frames.
With many fantastic benefits, the program fosters the connection to local primary schools and helps with the transition from primary to high school. The PCW Melbourne students gain valuable teaching experience solving real-world problems, and the primary school students gain from the experience of working with older students.
Participating schools include St Mary's East St Kilda, St Mary's Williamstown, Stonnington Primary, St Augustine's Yarraville and Galilee Regional Primary.
At Danihers Facility Management, we are thrilled to support programs that enable schools to expand education beyond their four walls and enhance connections with their local communities.