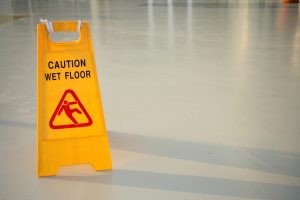 A little slip or trip at work can have a huge impact on your life, hence prevention is the key. Each year slips, trips and falls result in thousands of preventable injuries. The most common ones are musculoskeletal injuries, cuts, bruises, fractures and dislocations, but more serious injuries can also happen.
Safe Work Australia website provides some very interesting statistics about slips and trips. These stats reinforce the importance of preventing accidental injuries at work.
Over the 12 years between 2003–15, slips, trips or falls:
caused the death of 386 workers
led to 23% of serious claims
were caused by environmental factors* 56% of the time.
*Environmental factors can include slippery surfaces following rain or spills, poorly designed or maintained walkways, poor lighting on stairs and walkways and trip hazards for example from poorly stored materials.
Sourced from: www.safeworkaustralia.gov.au
Common sources of risk:
uneven floor areas
poorly maintained floor surfaces
slippery floor surfaces (eg from cleaning products and /or methods of cleaning)
wet or dry floors from water, grease, oil, dust or paper
cluttered or poorly lit work areas or passages
no aids or inappropriate aids to reach objects stored above the ground (eg standing on chairs to reach objects)
spills
poor lighting (eg when getting in or out of vehicles)
weather (eg frost, rain, heat)
wearing footwear that does not match the environmental conditions
uneven ground surfaces
growth of plant material (eg moss, lichen, grass)
pets or animals
Tips for eliminating hazards
Good housekeeping is the first and the most important tip of preventing falls due to slips and trips.
Did you know?
Without good housekeeping practices, any other preventive measures such as installation of sophisticated flooring, specialty footwear or training on techniques of walking and safe falling will never be fully effective.
Here are some tips on good housekeeping:
cleaning all spills immediately
marking spills and wet areas
mopping or sweeping debris from floors
removing obstacles from walkways and always keeping walkways free of clutter
securing (tacking, taping, etc.) mats, rugs and carpets that do not lay flat
always closing file cabinet or storage drawers
covering cables that cross walkways
keeping working areas and walkways well lit
replacing used light bulbs and faulty switches
Work procedures can also impact on the incidence of slips and trips. For example, develop procedures that avoid the build-up of rubbish throughout a production process.
Footwear is also very important in preventing accidental trips. When selecting and buying footwear, think about whether it has good slip resistance properties along with any other safety features you need. For example;
In wet conditions the shoe sole tread pattern should be deep enough to help penetrate the surface water and make direct contact with the floor
In dry conditions the shoe sole tread pattern should be a flat bottom construction that grips the floor with maximum contact area
Urethane and rubber soles are more effective than vinyl and leather soles for slip resistance. Sole materials that have tiny cell like features will be slip resistant
In summary, slips and trips can be extremely dangerous and life changing, so take care and look for preventing any hazards in your workplace. Stay safe!
 Source:
www.safeworkaustralia.gov.au/slips-trips-falls
www.ccohs.ca/oshanswers/safety_haz/falls.html