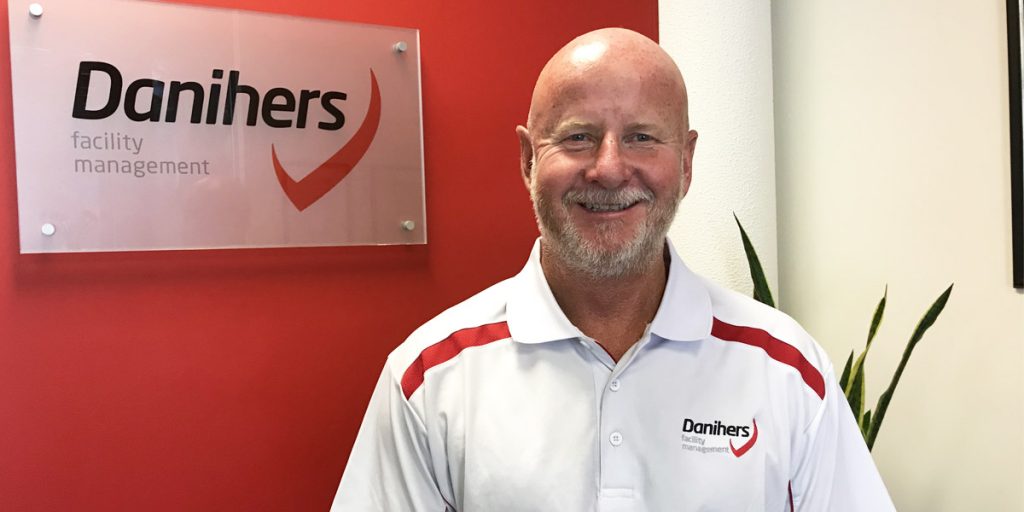 Danihers are pleased to announce that we have appointed facility management professional Scott Howells in the new role of National Facilities Manager.
A very accomplished professional with extensive knowledge of hard and soft FM services, Scott has been hand-picked for this critical role to strengthen our fully integrated facilities management solutions to our clients.
Scott joined Danihers about 18 months ago as our Site Manager at Caroline Chisholm Catholic College.
During this time he has impressed us with his customer service skills and the way he has embraced our values and culture.
Prior to joining Danihers, Scott was the Group General Manager of ISS Facility Services, Australia. He managed a team of over 500 personnel across the country and made major contributions to the future development of the business, positioning the organisation for growth across a diverse range of sectors.
During Scott's time at ISS, his achievements were recognised through his selection for ISS' Leadership Mastery Class (Asia Pacific): the pinnacle of the ISS professional development hierarchy.
His strong leadership skills, ability to troubleshoot and improve processes will ensure our clients reach their FM goals.
A new role for Kate Henselis
On another exciting note, our National Operations Manager Kate Henselis has taken on a new role managing our business systems and driving overall company compliance. She has done an amazing job as our Operations Manager and has achieved so much over the past 20 months.
Kate has dived headfirst into her role, driving the roll out of our new IT system, the Danihers Integrated Business Platform. We pride ourselves on taking an innovative approach to facility management at Danihers, and Kate will help implement best practice solutions to optimise our systems, and improve and streamline our processes and procedures.
Danihers Integrated IT Platform
We are passionate about communicating with both our clients and teams on site to deliver on our commitments. To achieve these results, we conduct productive visits to each customer site throughout every month. These visits will now be supported by our new Danihers IT platform which will provide:
A single point access to data and reports in real time
Interactive scheduling and recording of scheduled and non-scheduled tasks
Ensuring compliance to contractual commitments
Data management inclusive of files, records and documents relevant to our service delivery
Resource planning, productivity and efficiency tracking
A mobile, interactive system which is user friendly for all
Our integrated system includes Ento, our online rostering/timesheet system. This user-friendly software allows us to organise and monitor scheduling and attendance across our sites.
Welcome Scott and congratulations to Kate! Scott, Kate and the rest of our senior management team look forward to continuing to provide operational excellence in facilities management into the future.