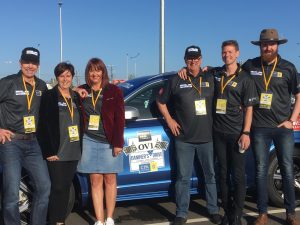 What a day! We're all set to hit the road with Neale on our third Daniher's Drive around Victoria to raise awareness and funds to find a cure for Motor Neurone Disease (MND). 
This year my boys Darcy and Ned are joining the convoy of almost 100 cars and I'll be travelling as always with Terry and Chris.
The four-day road trip will start at Wagga in NSW near our birthplace in the Riverina. We'll continue from there to Echuca via Corowa, through the Wimmera region to St Arnaud and down to the goldfield region of Ballarat. We saw some breathtaking scenery in the high country last year and I'm sure well see more of Victoria's natural beauty again this year.
We have a packed agenda with a comedy night in Echuca and a Rock' n Roll night in Ballarat which is gearing up to be one of the best events yet. As always I expect the party bus will be an absolute hoot!
Neale is having a real crack at finding a cure for 'The Beast' MND and I'm so proud of the way he helped raise almost $5 million through the Big Freeze at the 'G this year. But he can't do it without everyone's support, so it's all about rallying around Neale and getting on board!
For regular Daniher's Drive updates, check out Neale's Facebook page 'Neale Daniher – Fight MND Patron'.
If you're keen to get involved in the 2018 drive I urge you to register now – this event sells like hotcakes!
Neale is hoping to raise $2 million for the 2017 Drive, so please support our fight against MND and donate here: curemnd.org.au/danihersdrive
Anthony