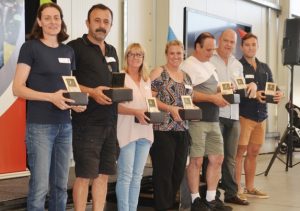 2017 marks a huge milestone for Danihers Facility Management, as we celebrate our 30th birthday!
This month we were able to commemorate this occasion with our largest family day ever – more than 400 people from all across the Danihers family rolled up to the Melbourne Showgrounds ready for a day of fun, food, and reflection on the last 30 years of our company.
Always our favourite day on the Danihers calendar, the annual family day is our one opportunity for every branch of our company to come together with their families and show our appreciation for everything that they do whether as part of our site crews and business units, operations teams, or management teams.
The day kicked off with face painting and rides on the lawn, as kids of all ages enjoyed the spinning teacups, the Cha-Cha, and the massive Fantasy Island jumping castle! There was even a carousel and a petting zoo for the smallest, and the non-thrill seekers, of the bunch.
The 30 year anniversary was not only a milestone for our company, but also for some of our staff who have been with us from the early days. We were delighted to recognise the following staff for their commitment and quality service to our company:
Maria Kourtesis – 15 years
Manuel Gonzalez – 15 years
Steve Lynch – 15 years
Jodie Russell – 10 years
Nick Pool – 10 years
Sharon Dellervergini – 10 years
Tuncay Kocaoglu – 10 years
In addition to recognising our long serving staff members, we also took time to bring to the light the achievements of our staff in the broader family:
Thilini Jamuni – Outstanding Achievement as a Cleaning Supervisor at Caroline Chisholm Catholic College
David Borg – Outstanding Achievement as an FM Site Manager at St Aloysius College
Matt McPherson – Outstanding Achievement as an FM Trade Partner from McPherson Window Cleaning
AGC Cleaning Services – Outstanding Achievement as a Cleaning Business Unit
Luke Etheredge – Danihers Rising Star at Catholic College Bendigo
Steve Lynch – Danihers Team Member of the Year
We here at Danihers were thrilled to acknowledge just some of the incredible people who dedicate their time and passion to our company, and could not be more proud to call them all members of our family.
A huge congratulations to all of our staff who were nominated and recognised on the day, and a sincere thank you to all who attended the day, making it our biggest ever family day!