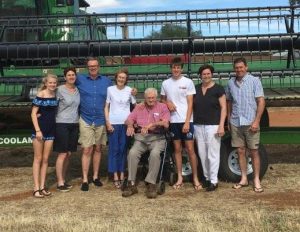 Well, we're all at the end of another fantastic year. For many people, that means holidays, the chance to refresh, enjoy the warmer weather and spend time with family and friends which is just so vital. I'm lucky to have just returned from my annual trip home to Ungarie to pitch in with the harvest. While it wasn't the best harvest due to dry conditions, it was great to see that my dad Jim and my mum Edna are going strong at 83 and 89 and still very active around the farm!
As many of you will know, 2017 has been a significant year at Danihers as we celebrated our 30th anniversary. We are very blessed to have such great clients and a great team to celebrate this milestone with.
There have been so many highlights, but the stand-out for me was seeing two of our superstars, Galina Tobolov and Lorenze Wijeratne, win big at the BSCAA awards night in November. Well done Galina and Lorenze! You are both doing an amazing job for our clients CSL Broadmeadows and Pact Group respectively, what an outstanding effort!
As we've seen over the past few weeks, the weather can be both hot, wet and very unpredictable at this time of year. Please remember that we always have a team on hand to assist with floods or other emergencies during the holidays, just call our Operations Team on 1300 559 409. Let us worry about cleaning up any mess, you all should relax!
Have an enjoyable and restful Christmas and New Year. I want to thank all of you for your incredible ongoing support throughout our 30th year. We look forward to the many exciting challenges that await us in 2018.
 Anthony