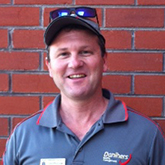 Luke Etheredge has joined the Danihers FM team as the Head Groundsman at Our Lady of the Sacred Heart in Bentleigh.
As the owner of his own property maintenance business for 16 years, Luke has a wealth of experience with grounds maintenance and quality customer service.
Luke has significant expertise across all aspects of grounds management from weed, pest and disease control to landscaping, equipment maintenance and using ride-on mowers.
When he's not at work, Luke enjoys watching and playing sport, riding dirt bikes and spending time with his wife and 3 children.
Welcome, Luke!