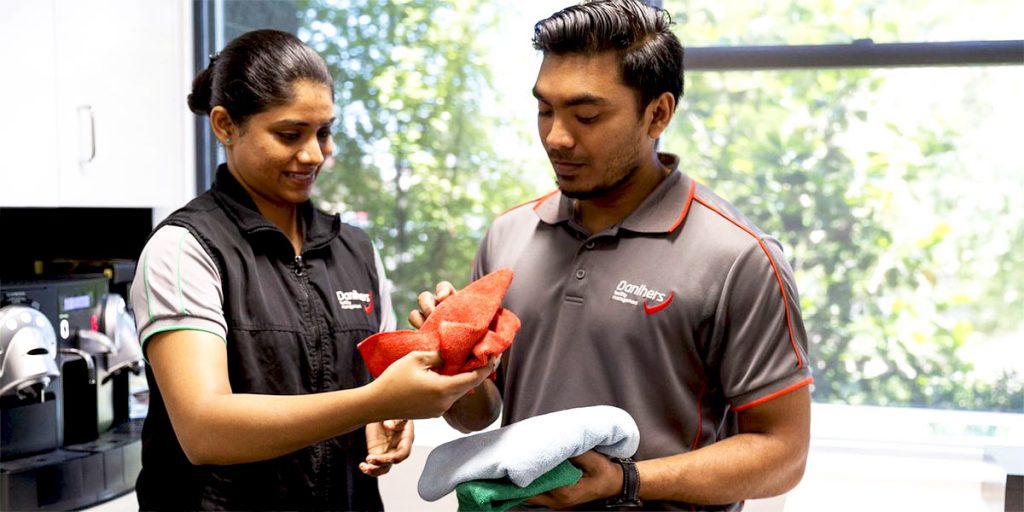 Environmental management is always a hot topic at Danihers and working alongside our passionate clients to find sustainable solutions will always be at the heart of our operations.
Danihers Day Green Cleaning Program
Originally our Day Green Cleaning initiative was developed for clients who also shared our concerns for the environment and wanted to incorporate more sustainable practices into their workplace. We found that all of the tasks completed by a night cleaning crew can be performed quietly and unobtrusively during the day.
As the program evolved, there were other benefits, such as improved team well-being and stronger client relationships.
We work in partnership with each client to implement a day cleaning timetable tailored to their business tempo, procedures and cleaning requirements.
Day cleaning can achieve:
Reduced energy bills: When cleaners are working during the day, lights do not need to be turned on, thereby reducing overall electricity consumption at the site. By switching from night time cleaning to day cleaning, you have the potential to decrease overall energy use by 10 to 15 percent.
Better results: Cleaning during daylight hours ensures better results because high traffic areas get more frequent attention.
Increased client communication: When clients are able to see and interact with the cleaning team, communication is often improved, and an increased sense of trust is formed.
Immediate response: When cleaning teams are available during peak working hours, they can respond immediately to ad hoc activities and unforeseen incidents.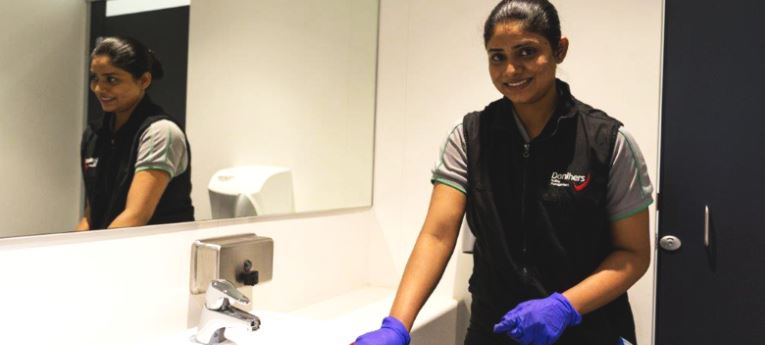 Increased team well-being: More family-friendly hours for cleaning teams can increase the well-being of team members. It also provides an opportunity for them to become an important member of their work community, resulting in better employee retention and job satisfaction.
Better building security: Day cleaning programs can be a lot safer for businesses and workers as fewer robberies and physical assaults happen during the day. Cleaning accidents and challenges are also minimised during daylight.
Enhanced Cleaning Services
When the pandemic hit in March, enhanced cleaning services such as contamination cleaning and increased touch point cleaning became the new normal. Fortunately, with our 26 years of pharmaceutical cleaning and 10 years running our day cleaning program, Danihers are well equipped with the right knowledge and skills to tackle these important jobs that keep staff and students healthy and safe.
What Other Elements of Green Cleaning are Important?
Green cleaning also includes using cleaning products made with environmentally friendly ingredients and methods designed to preserve our planet and the people in it. By avoiding the use of products that contain toxic chemicals, we can reduce the amount of pollutants that impact:
● The water quality
● The air we breathe
● Allergies, respiratory and dermatological conditions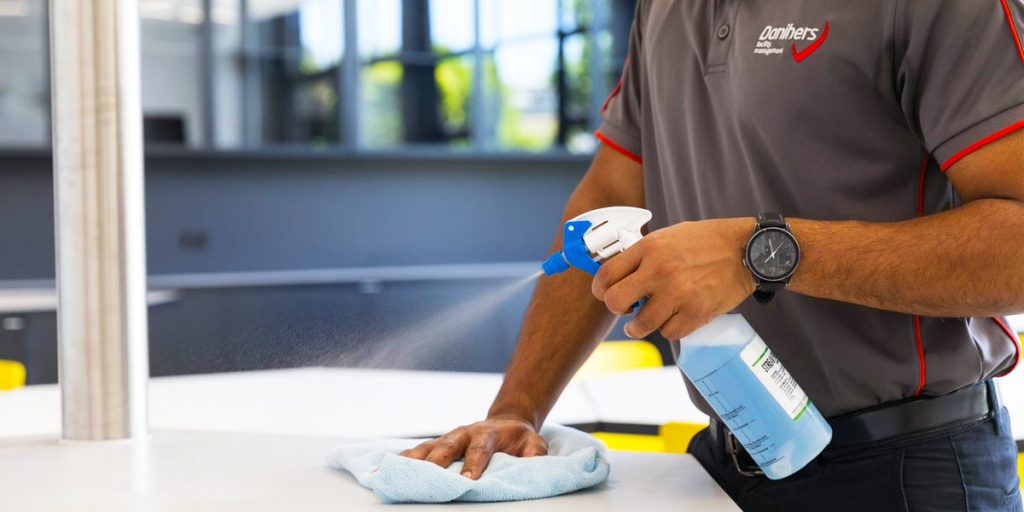 Our Eco-Friendly Products
We choose to work exclusively with Agar cleaning products. Agar is an Australian owned and operated company with over 50 years of industry experience and are at the forefront of green cleaning technology.
We have worked with Agar for over twenty years and have built a partnership that allows us the opportunity to provide input into the development of the GECA (Good Environmental Choice Australia) certified cleaning products we use across our sites.
There are many benefits to using cleaning products that are biodegradable, chlorine-free, phosphate-free and non-toxic. They are less hazardous, as they don't contain corrosive chemicals that contribute to air and water pollution. They are typically much safer and suitable to use around people who might have allergies or health conditions. Plus, they come in packaging that is reusable and recyclable.
Microfibre Cleaning
We use microfibre technology in all our cleaning programs. Statistics show that the greatest improvements in infection control are achieved by the introduction of complete microfibre cleaning programs instead of the traditional wet (chemical) cleaning systems.
The environmental benefits of using microfibre have been shown to create:
• Reductions in water usage by up to 80%
• Reductions in chemical usage by up to 70%
• Reductions of consumable waste by up to 60%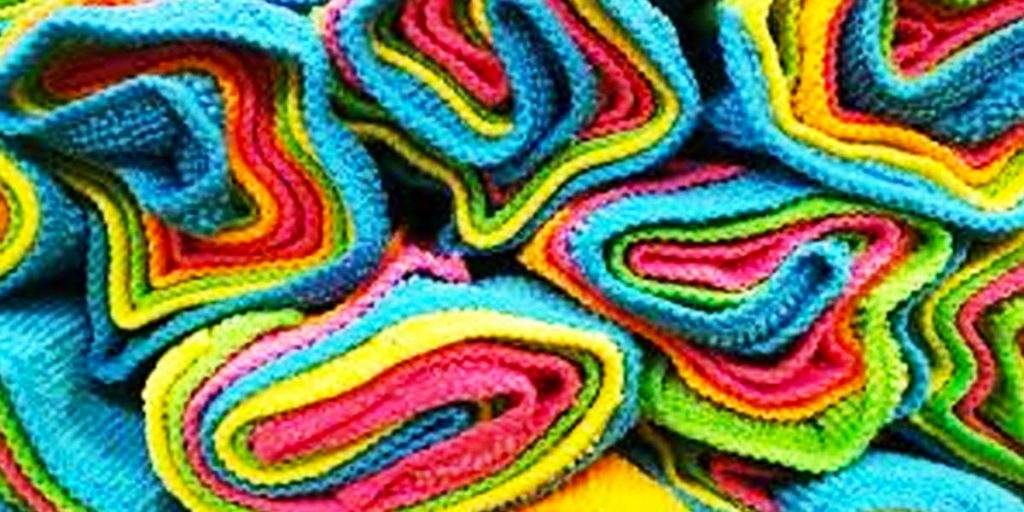 Our colour coded microfibre cleaning cloths are used again and again – by simply rinsing or washing them in soapy water and hanging them out to dry ready for the next day.
Equipment
To create a healthier and cleaner indoor environment for our clients, we use only vacuum cleaners fitted with HEPA filters. Our machinery is energy efficient and has a control panel that allows the operator to regulate the amount of water and chemical used while cleaning.
All equipment used is battery operated and gel based, once the gel battery is fully charged it shuts off power to the machine.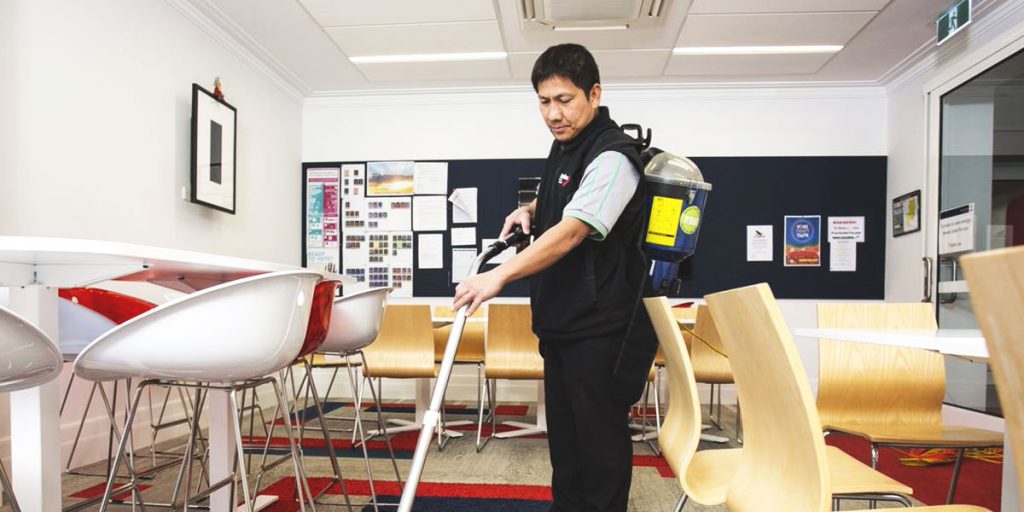 If you would like any more information on our day green cleaning program or any of the eco-friendly products we use, please contact our Operations team or your Client Service Manager.