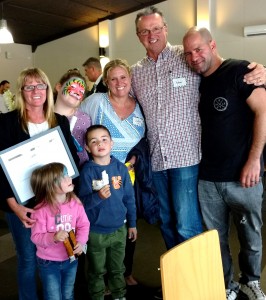 More than 300 Danihers team members and their families enjoyed a roaring good time during our recent family day at the Melbourne Zoo.
As always it was a wonderful opportunity to get the wider team together, meet their families and show our appreciation of the amazing effort they put in each and every day.
As well as enjoying a stroll through the butterfly enclosure, a chat with the chimps and everything else the zoo has to offer, the kids had an encounter with a placid milk snake, enjoyed colourful face painting and collected a fun party bag.
Our biggest highlight was the chance to recognise some of our star performers, including:
Facility Manager Nick Pool who does an amazing job at OLSH College, Bentleigh
Cleaning and Grounds Supervisor Gary Singh who is a star at Fairhills High School
Facility management trade partners Matt and Erin McPherson who consistently deliver outstanding customer service
Ravi Jaya who continues to go above and beyond every year in servicing our valued clients
Team Member of the Year Sharon Dellevergini from our CSL team who won two awards at the BSCAA Vic awards night in November, including  Cleaner of the Year,
a wonderful recognition.
A huge thank you to some of our teams that have been working with Danihers in delivering service excellence. The following loyal teams and staff received service milestone awards:
Remoon Khosaba and his loyal, diligent team members for 10 excellent years of support, especially at CSL – congratulations!
John Zappia for 10 outstanding years working in our team at CSL – congratulations!
Ashok Singh and Taran Kaur, for 5 years' outstanding service delivery with their teams – congratulations!
Claudio Trifiro and Gabriela Pugliesi for 5 excellent years of service quality support – congratulations!
Thank you to everyone who came along. We are already looking forward to next year's event!
Anthony, Mark and Steve