Dorothy Vearing and her sisters came together in hope to support Neale in his fight against MND and started Sockit2MND campaign. This campaign originally started in NSW but has now created a huge awareness and success nationally. Sockit2MND is a fundraising round for sporting clubs to join the Fight against MND.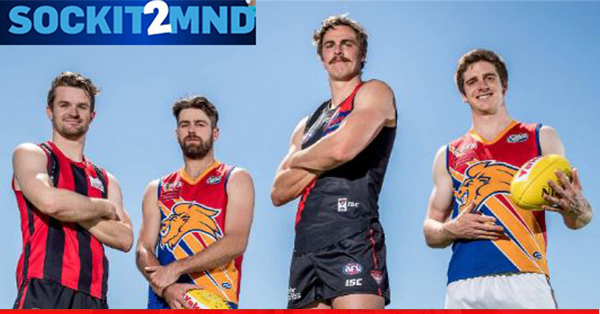 Supported by AFL Victoria, the round aims to raise funds and awareness of MND through wearing FightMND socks on the dedicated round – 15th & 16th of June. The socks are the players alternative to the Big Freeze beanie and are pre-purchased throughout mid-January to March.
The campaign was held in 2018, with great success thanks to the support from Victoria and surrounding states. In 2019, FightMND and AFL Victoria aim to continue to grow and make 2019 Sockit2MND the biggest year yet. The campaign is open to all sports, ages and codes including AFL, Netball,Basketball, Rugby and Soccer.
Click here to put your name down on the wait list and get a pair!