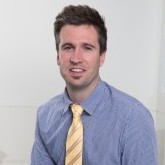 Get to know our friendly team through our regular employee profiles.
This month we will shine our spotlight on Aaron McClelland, one of our Client Service/ Training and Development Managers and friendly faces you will regularly see out on site.
With a strong focus on property services, Aaron inspects sites to ensure performance is of the highest standard and exceeds the expectations of our clients.
Tell us about yourself in 30 words
I enjoy fly-fishing as a hobby and enjoy going to music gigs when I can. I like all different types of music – a recent show I saw was 'At Last', a story on Etta James' life. Etta was played by Vika Bull, she was great and really nailed the voice of Etta James which wouldn't be easy. Having said all that I don't get to shows as much these days. The show I see most often now is the 'raising a 1-year-old' story which is different but good also.
What is your role at Danihers?
Client Service Training and Development Manager
Describe a typical day in your role (40 words max)
I currently go to sites to inspect the maintenance management of that site/school checking things like safety, processes and procedures as well as assuring quality of work being undertaken is of the highest standard.
Where have you worked before?
The previous company I worked for was Transfield Services on their City of Melbourne contract, we handled all the maintenance on their buildings including Council House 1 and 2 and the Melbourne Town Hall. I also worked in London for four years as a plumber to begin with, then managing Mechanical Plumbing installations in buildings around the city.
What makes you smile at work?
When the work you do on site aligns or exceeds the expectations of a client.
Where is your favourite holiday destination?
The best place I have visited was in a small village called Pretoro in Italy, it is geographically in line with Rome on the East Coast. The food, wine and people were amazing. My favourite local destination is Jamieson, it is about an hour out of Mansfield, I like to go fly fishing there.
Tell us about your most rewarding experience since you joined Danihers. 
Leading the Danihers team at St. Aloysius College.  During my time there, I was able to build a great relationship between the College and Danihers.
What is your favourite time of year and why?
Nowadays it is Christmas time. My 1-year-old daughter Grace is starting to understand who Santa is and get excited about Christmas.
What do you wish other people knew about Danihers? 
They are an encouraging and family oriented business which still displays these values even though they are growing in size.