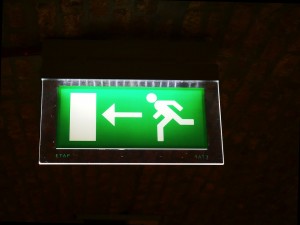 Do the essential safety measures at your site continue to perform at the same level that existed when your facility opened? Your essential services should ensure adequate levels of safety and protection over the entire life of your building.
What are essential services?
Essential services are the safety installations in a building that improve its safety. They assist in reducing risk to life and property in the event of emergencies, such as fires, unexpected falls or other accidents.
Active or passive measures
Essential safety measures can either be active or passive.
Active:
Automatic sprinkler systems
Automatic fire detection and alarm systems
Emergency warning and intercommunication systems
Mechanical ventilation systems
Pressurising systems
Stand-by power systems.
Passive:
Fire doors and fire-rated structures
Paths of travel to exits.
Be aware – many essential passive safety measures are structural elements designed into the building and are not always known or easily identified.
Different requirements throughout Australia
It is important to know your responsibilities when it comes to ensuring the safety of occupants in your building.
Each Australian state and territory has defined building regulations and legislation. Varying levels of mandatory maintenance, testing or inspection of active and passive fire systems are required to ensure operational performance in the event of an emergency. Fire safety training is a vital element of your fire prevention plan and should be developed in accordance with the Australian Standard, AS 3745 – 2010 Planning for Emergencies in Facilities.
How to manage your essential services
All building owners are required to sign an Annual Essential Safety Measures Report (AESMR) every year and ensure that their safety measures are properly maintained.
Reduce the risk to your business by ensuring the correct protection equipment and systems are in place and by undertaking quarterly reviews of all essential services.
At Danihers, we can help you keep up to date with safety standards. We can work with you in obtaining your AESMR and assist with any non-compliance issues arising from quarterly inspections.
Sources:
www.vba.vic.gov.au
You may also like: