Anthony Yu from GnBlue is a Business Unit Owner, responsible for running and supervising the cleaning services at Mentone Grammar.
His daily routine is to contact clients, check the cleanliness of the site, schedule any needed audits and he prides himself on always making sure that work is completed at the highest standard.
Anthony's largest achievement is receiving a BSCAA award (Building Service Contractors Association of Australia), Australian Super Industry Excellence Award for the cleaning industry in 2016. Anthony stated that "It feels amazing to know that all my hard work is noticed and celebrated".
Anthony loves working at Mentone Grammar, and he has mentioned that the staff are extremely friendly, always smiling and even giving me hugs occasionally. "I feel happy to think that I'm part of their community." Anthony says.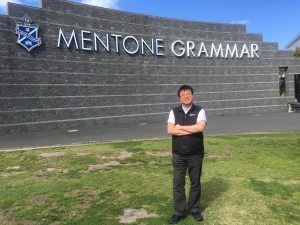 Anthony loves working for Danihers as he feels that we are honest and family orientated organisation, as well as supportive and fair.
Mentone Grammar is a large school, so for Anthony its crucial to develop excellent team work skills and ensure that they can also work well individually. "I enjoy Danihers Business Unit sessions on quarterly basis which allows me to learn new things about running my own business." Anthony states.
Dear Anthony,
Thanks so much for the wonderful job you do cleaning down here. We appreciate the care and effort you put into your job. Look forward to seeing you after the break.
Libby and all the staff down in the ELC.