Managing Director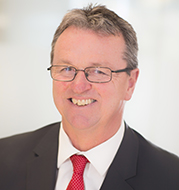 Anthony grew up on the family property in New South Wales believing he would be a farmer, until he was recruited at 18 years old by South Melbourne Football Club.
Following a stint with the Sydney Swans, Anthony moved to Melbourne and joined Essendon Football Club together with his footy playing brothers, Terry and Chris.
In 1987, the three Daniher brothers founded Danihers Cleaning Services, which focused primarily on commercial window cleaning in Melbourne's western suburbs.
Over the past 30+ years, Danihers has evolved into a facility management business offering a comprehensive range of cleaning and property management services.
As Managing Director, Anthony now leads the Danihers team and heads up all business development activities.
Of course Anthony is still passionate about football and is proudly enjoying watching his son follow his footy-playing boot steps.