Journey to Sustainability – A Message from Anthony Daniher
30 June 2023
My journey began in 2017 when my wife Jo and I purchased a hobby farm at Moama NSW, just over the border from Echuca.
We decided to go back to school, so Jo enrolled us into a course called "Re-Wilding Australia" run by Greening Australia – focusing on Habitat Conservation & Management.
This taught us how our land and ecosystems function, and the immediate threat to its survival.
We learned our land requires much love to bring the soil back to a healthy state, allowing it to provide the essential nutrients for the native grasses, trees, and vegetation to survive. So, we committed to "re-wilding" our block.
Having commenced this journey on our small block of 88 acres at Moama, my mind quickly shifted to Danihers Facility Management and our responsibility as a business to take action to help save our planet.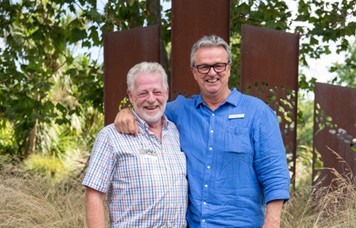 When talking with my business partner Mark Lynch, and the leadership team, I informed them of a frightening statistic: ''if we do nothing to impact the rate of carbon emissions in the air, we only have 61 harvests left on this planet'.
As leaders in business, we shared the belief that we have a responsibility to play a part in creating a sustainable planet for future generations, and that success at Danihers is not simply measured by financial gains, but also through the achievement of environmental, social and governance goals.
We unanimously agreed to take positive action and committed to achieving Net-Zero by 2025 for our head office.
A key driver in our success so far has been the passion and drive and commitment of our team to learn and embrace change.
BACK