Neale Daniher Pavilion opens at Assumption College
29 April 2022
Congratulations to Assumption College on the official opening of the Neale Daniher Pavilion.
The team at Danihers were delighted to attend the official opening ceremony of the Neale Daniher Pavilion. Kate Fogarty, Principal at Assumption College spoke eloquently and passionately about the long journey from concept to completion of the Pavilion.
The pavilion has been named in honour of the school's much-loved alumnus, AFL star and co-rounder, and patron of Fight MND, Neale Daniher AM.
Kate Fogarty said 'Neale's example, his courage, his tenacity, his vulnerability, his resilience, his humanity, his humility and his unwavering commitment to the common good for others is everything that we hope for our students. That is why we have named this building in his honour'.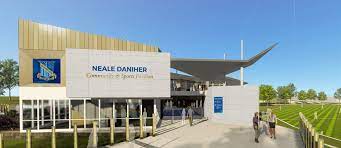 This is a project that is very dear to our hearts at Danihers and we are immensely proud to have had the opportunity to contribute to this amazing a state-of-the-art pavilion which will benefit the College and local community for generations to come.
BACK